The journey of a customer through the marketing funnel stages from awareness to loyalty can be pretty complicated. It's crucial for businesses not only to understand their needs and expectations at each stage in this cycle. Understanding what your customers want in their end game will help you satisfy them and exceed expectations along this process.
What is a customer journey?
Customer journey is the sum of all experiences that customers have when interacting with your company and brand. Instead of looking at just one part of their transaction or experience, the customer journey focuses on documenting how they are as a whole while being your clients.
The customer journey starts when a person becomes aware of your brand and continues through every experience they have while interacting with it. It can also include post-purchase actions like returning an item, canceling service subscriptions, or contacting support for help.
When a customer interacts with your product or service, they will go through a series of steps through the marketing funnel stages to determine whether or not the final decision is for them. The experience during this journey determines how much value you can provide from using one brand over another. So it's essential that every step has an engaging tone in order to keep people engaged.
Check out this Value Proposition Cheat Sheet to help you provide more value to your customer.
Steps in understanding the route of your customers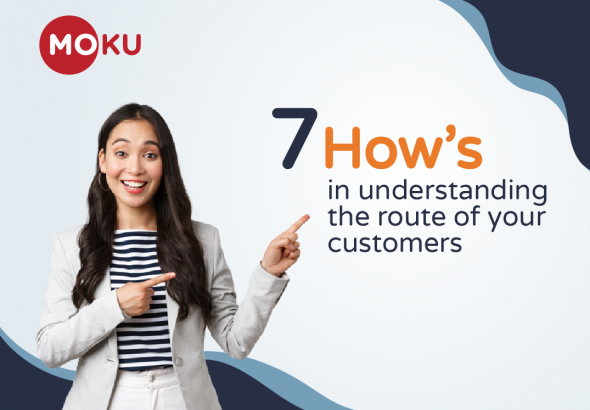 The Customer Journey Map is an effective tool for understanding the whole process from start to end to get a clearer picture of who your customers are and what they need. This strategic approach follows all steps along with customer interaction.
Discover valuable insights on your customers' journey with your brand by following these seven key steps.
Establish clear objectives
Before creating your map, you must understand why you are making it in the first place. You need to ask yourself what goals it will serve and who it's specifically about?
Setting a clear objective and goal will help you with the next step of the marketing funnel, which is creating a persona.
Create your personas
Personas are believable archetypes that a business develops to represent its target customers. Each persona has its own name that reflects personal attributes as well as a variety of behaviors. They may exhibit on products or services, such as needs, motivations, and pain points.
The key to successful marketing is knowing who you're targeting, and there's no better way than by creating personas for your customers. Personifying the people that will buy from your company can help marketers be more effective with their message.
The most effective customer personas came up from market research through surveys and interviews of your target audience.
Some questions that you can use to create your personas are
How did you hear about us?

What goals do you want to achieve with us?

What made you make your first purchase with us?
Hubspot's free Make My Persona tool lets you create personas with your insights about customers.
Identify all customer touch points throughout the customer journey
When creating your buyer personas, determine all the points along the customer's journey at the marketing funnel stages. Touch points are when a customer interacts with your brand before, during, or after a purchase. These can be from social media posts to in-store displays and TV ads. It's important to consider all the different ways customers may find and interact with your brand.
Once you have successfully identified these, create a map with a chronological order to have a better view from start to finish. This will help you maximize your client interaction at every touchpoint.
Determine Potential Obstacles
After identifying your customer's touchpoints, it's time for you to identify the roadblocks preventing your customers from reaching their goals. Take a closer look at your data to understand how the customers use them and what are the customers' feedback. These data can be gathered through qualitative and quantitative data from surveys, reviews, and testimonials.
It is surprising to know how many trivial things are pushing customers and prospects into competition with other brands. The lack of detailed product information on your website, slow website, car park space, or return policies.
Knowing and understanding these challenges that your customers face are the first steps in eliminating them or mitigating their impact on your customers' experience during their journey to your business.
To understand the customer journey, take it yourself and note all possible pain points at every step. Remember to do this for each buyer persona so you can create a personalized plan of action that will resonate most with them.
Go through your customer's journey
The best way to understand your customers is by taking the journey through the marketing funnel stages. Note all possible pain points, and remember that each buyer persona will have their own set in mind, so you need individualized attention paid out for everyone.
Utilize customer feedback to complement your findings. Ask them about their experience with your brand to ensure that you deliver scenarios that align with your goals.
Walking yourself through the customer's journey stage-by-stage will allow you to see areas where your company could improve your customers' experience at each point.
Create a visual representation of the customer journey
With the information gathered in this process, create a visual map that shows how customers interact and what they see. Outline the key touch points on your customer journey while highlighting the obstacles with an illustration for each one.
The customer journey map is a colorful representation of your customers' experience with you. The different colors represent the emotions they experience at each stage and where there are opportunities for improvement.
Revise if necessary
After you have completed your map, ask your team members to go through it and suggest revisions where necessary. Take note that the customer journey map is constantly changing depending on the current trends and circumstances. This means that you will need to constantly revisit your map and review where you can implement changes to make it evolve. This is why you have to use customer data and voice of customer surveys as the basis of your customer journey analysis. It helps you see from their perspective.
As a business owner, you and your team can also come up with changes based on what you have learned from your map. For instance, you may discover that the customers may need additional steps along the customer journey. You may also discover that you need to help customers by providing frequently asked questions, describing your products and services better, and communicating with them through the most convenient channels.
Final thoughts
If you want to create a customer-centric business, start by creating customer journey roadmaps. These visual representations of your customers' experiences will help you see where there are gaps in your marketing funnel stages and identify the areas of your business that need the most improvement. You can optimize workflows across departments with customer journey mapping for more seamless customer experiences. Creating these maps is an essential first step on your road to becoming a customer-centric organization.
Need help understanding the route of your customers?
Moku has developed a new program that will help you map your customer's journey! Contact us for more information.